LinkPin refers to the inclusion of links to relevant web2.0 services included in many websites. Clicking them takes the user to personal profiles on individual platforms, giving an overview of the divers and distributed online presence and content. Popular examples include linking to the Facebook profile, Twitter feed, associated RSS feeds, LinkedIn profile among others.


figure 4: Examples of icons linking to personal social media content and sites. Form left to right: Link to the Facebook profile, Twitter feed, RSS feed, Flickr profile, Delicious profile.
Online, including references to other online activities is an essential part in order to convey a complete image of ones identity and being able to stay in contact with different people through different platforms. With the increase of social media and potentials of use, personal content available and produced online also gains importance in the physical world. The idea of LinkPin is to physically connect these worlds through a wearable accessory, a broche making use of established web aesthetics – thus reaching with the help of smart devices for a more straightforward interaction between online and offline worlds.
Physical browsing and the Internet of things are both concepts that become increasingly realistic with the advent of well-equipped, affordable and widespread smart phones and devices. Current attempts to
augment physical space with online content mostly rely on visible codes, a very effective, but from an aesthetic point of view insufficient solution. With the advent of NFC being integrated into mobile devices new modes of interaction will become possible. Making use of RFID technologies, small tags, a RFID-reader enabled iPod [3] and customized software a scenario of potential use can already be sketched today.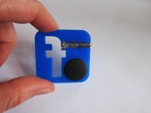 Front and backside of the broche, first version prototype, in the form of the online Facebook link icon. The backside shows the needle pin and the integrated RFID tag, containing the individual ID of the wearers Facebook page.
Working prototype application scenario. RFID reader mounted on the backside of the iPod detects the ID and application software connects to the according Facebook profile page.
Outlay of technical parts of the prototype without a case in order to have a better insight: iPod, serial connection, RFID Reader [3] and battery plugs (unplugged)